Casale is a family business founded in 1964 and managed professionally in Brazil with pride. Commanded by Celso Casale, the company has about 200 employees and representatives throughout the Brazilian territory.
Located at Washington Luiz Highway – São Carlos (SP), it supplies the entire national market, mainly the South, Southeast and Midwest regions, in addition to exporting to: Uruguay, Panama, Nicaragua, Mexico, Chile, Venezuela, Paraguay , Bolivia, Cuba and South Africa.
Casale is 100% focused on modern and efficient livestock, operating with the purpose of helping to feed the world population with higher quality and lower cost. For this reason, it constantly invests in technology to serve the Brazilian and worldwide agribusiness with assertiveness and efficiency, increasing the producer's performance in their property, efficiency and operational confidence. 
"We are proud to be a Brazilian company, with expertise and know-how to compete with any first-world company. We are the only company that has several models and sizes of mixers. Our equipment has state-of the-art technological solutions. This diversity of products gives us the opportunity to meet every need, from small to macro producers", emphasizes Casale's president, Celso Casale.
With so much revolution in the agribusiness sector, Casale seeks to develop technologies that help the rancher to have a sustainable business and mainly without waste, through the precision livestock system. This tool helps the producer in managing herds and searching for increasingly healthy food, aiming to increase productivity and meet the demands to conquer new domestic and foreign markets.
Casale is one of the companies that most develops equipment in the right size for ranchers.
"We are able to create high-tech machines because we experience the needs of producers and look for solutions in the field. The latest evolution of our company was Vertimix 20 AC, the ideal total feed mixer for small batches of animals, with a capacity of 2m³ and up to 800kg, reducing waste and increasing producer's profitability. Casale has solutions available to everyone!", adds Celso Casale.
Whether in intensive or semi-intensive livestock, cutting operations or milk activities, always count on Casale, seven times winner of Agroleite award and eleven times winner of Touro de Ouro award of AG magazine.
INDUSTRIAL PARK
Casale's industrial park was recently remodeled and has the latest cutting-edge metal machining and shaping machines. It applies modern production techniques that ensure greater productivity and more quality to the final product, seeking to improve compliance with the requirements of its clients.
Casale machines have a level equivalent to those manufactured in European and North American countries in terms of technology, performance and quality. In addition, they are adapted to the most severe working conditions, which explains the company's success in exporting machines and technology to several countries. 

From the diagnosis of ranchers' need to the delivery of the equipment, Casale is concerned with offering the complete solution for mechanization of procedures, with the objective of reverting the clients' investment in peace of mind, gains in production and more quality in their product.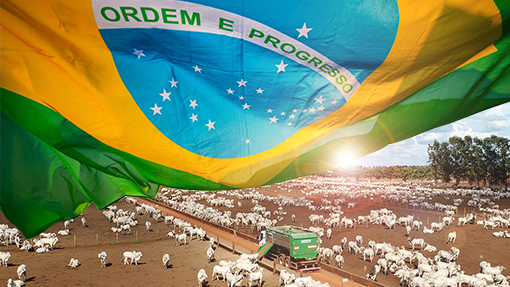 MISSÃO
Assegurar a confiança do produtor em nossa marca e liderar em soluções inovadoras para uma pecuária sustentável.
VALORES
Nossos colaboradores são nosso maior patrimônio;

Treat people with respect and cordiality;

Act with justice, honesty and frankness;

Agir para satisfação e sucesso de nossos clientes;

Respeitar o meio ambiente e nossas comunidades;

Honrar nossa palavra;

Ser comprometido e trabalhar em equipe;

Work continuously seeking excellence;